Store Modenstadl
… directly on the waterfall.
Triberger Modenstadl
Store Manager: Elisabeth Allgaier
Hauptstraße 85
78098 Triberg
Opening hours:
Our opening hours are daily from 10:00 - 18:00.
Also on Sundays and public holidays!
Country and Folklore Fashions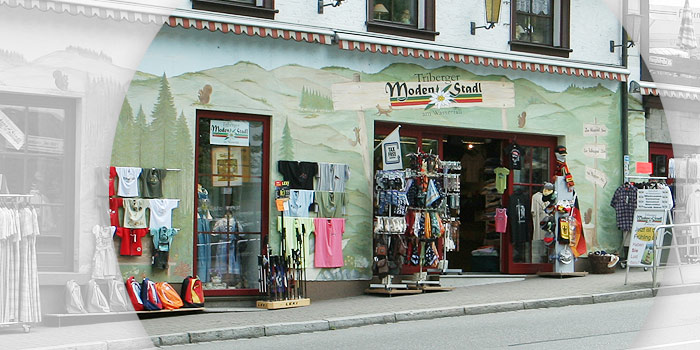 Right below the main entrance to Germany's highest waterfalls in Triberg, you will find our Country and Folklore Fashions store, the Moden Stadl.  This special shop has a large selection of german Dirndls that is hard to find in the surrounding area.
In a relaxing atmosphere you find many fashions and accessories for german country and folklore fashions.  We also specialize in providing a complete set of uniform outfits for personnel in restaurants and hotels.
Our Main Selection of Folklore and Country Fashions for Women:
Dirndl
Our large assortment of Dirndls ranges from comfortable and easy-to-care-for "working-Dirndls" for restaurant and hotel personnel  to  sassy, knee-lang Dirndls for flirting at the Octoberfest celebrations. We not only have the classic style Dirndl, but also the modern-style Dirndl in the newest fashion-colors, with three different lengths:  ankle-length, calf-length, and knee-length.  The fashion labels include:  Hammerschmid, Rose Dirndl, Spieth & Wensky, Isar Trachten
Leather Pants
We have the traditional german leather pants in almost every variety:  from simple, long pants to the more intricately sewn, decorated and trendy short leather pants with special additions of goat- and buffalo-leather.
Fashion Labels:  Spieth & Wensky, Lekra
Blouses
We carry a huge variety of blouses in our selection:  Long-Arm, ¾ Arm, Short-Arm, as well as "Carmen-Blouses", Puff-Arm Blouses, Dirndl Blouses …
Fashion Labels:  Hammerschmid, Spieth & Wensky, Isar Trachten, St. Peter Trachten
Folklore and Country Shoes
We have a selected assortment of matching shoes for our country- and folklore fashions that will provide you with a complete outfit for your special occasion.
Fashion Label:  Spieth & Wensky
Our Main Selection of Folklore and Country Fashions for Men:
Leather Pants
We have a great selection of short and long leather pants made of goat- and buffalo-leather, as well as the traditional knee-length pants.
Fashion Labels:  Spieth & Wensky, Lekra
Shirts
To match your leather pants, we carry a large assortment of matching shirts.
Fashion Labels:  Orbis Trachten, Spieth & Wensky, Isar Trachten
Knitted Jackets /-Vests
Many styles of various materials are available as loose jackets, vests and more formal jackets for men.  We have both leather- and combination leather/linen jackets, as well as knitted vests and jackets of sheeps wool from Walk-Loden
Fashion Labels:  Spieth & Wensky, Hammerschmid, Orbis Trachten, St. Peter Trachten
Folklore and Country Shoes
We have a selected assortment of matching shoes for our country- and folklore fashions that will provide you with a complete outfit for your special occasion.
Fashion Label:  Spieth & Wensky
Our Main Selection of Folklore and Country Fashions for Children:
Children's Dirndl and Folklore Clothes
We have a large selection of cute Dirndls and Dresses for little princesses. Our Children-Dirndls not only look nice, they are also very comfortable. A wide selection of country fashions and Folklore Dirndls are available for girls in sizes 80 – 164 (german sizes).
Fashion Labels:  Isar Trachten, St. Peter Trachten, Hammerschmid
Children's Leather Pants
For both rowdy boys and tomboy girls, we have a variety of traditional german leather pants in short or long styles.Sizes:  80 – 164 (german sizes).
Fashion Labels:  Isar Trachten, St. Peter Trachten
Children's Shirts and Blouses
Chidren's Blouses and Shirts to be worn for just about any occasion, both casual and also for formal celebrations, such as First Communion or Birthdays. The Blouses for girls and the shirts for boys are available in the sizes  80 – 164 (german sizes).
Fashion Labels:  Isar Trachten, St. Peter Trachten
Children's Knitted Jackets
For running around on the fresh air, our knitted jackets are just the thing! The knitted loose jackets for children are not only warm but very comfortable. Loose knitted jackets are available for boys and girls in the sizes 80 – 140 (german sizes).
Fashion Labels:  Isar Trachten, St. Peter Trachten, Hammerschmid
Children's Folklore and Country Shoes
We have matching shoes for our country- and folklore fashions that will provide you with a complete outfit for your special occasion. Available in sizes 23 – 35 (german sizes).
Fashion Label:  Spieth & Wensky
The matching accessories for a fashion outfit can really make the difference! We have an assortment of the stylish Dirndl necklaces with heart- and edelweiss- charms, as well as country fashion socks and hose, hats, purses and much more …