Store Triberg at the Waterfall
… directly on the waterfall.
Cuckoo Clocks, Wall & Mantel Clocks, Gifts, Souvenirs, …
House of 1000 Clocks Triberg
Hauptstraße 79-81
78098 Triberg
Opening hours:
Our opening hours are daily from 10:30 - 17:00.
Also on Sundays and public holidays!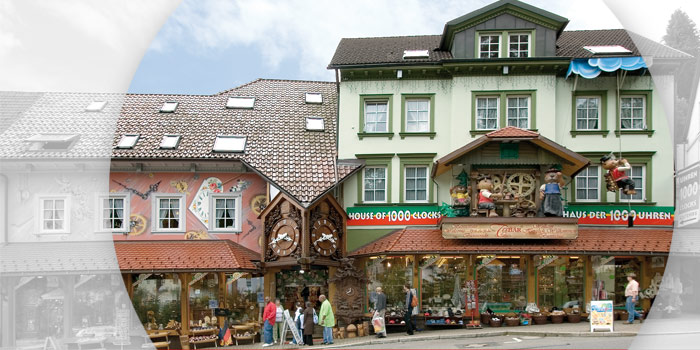 In the heart of Triberg, directly below the entrance to Triberg's Waterfalls, you will find our clock store with the animated Bear Family mounted on the storefront, as well as the largest selection of Black Forest cuckoo clocks in the area. In our huge, 2-story salesroom there is always something new and unusual to discover and enjoy. This is not just a store – it is a shopping experience!
Cuckoo Clocks and other Clocks
In our Triberg store we not only have all the clocks that you can order directly in our Online Shop, but also a much larger selection of many different clock styles and models. We are, of course, the House of 1000 Clocks with many more than 1000 Clocks in our store: classical Black Forest Cuckoo Clocks, unusually designed cuckoo clocks, a large selection of fashionable and practical watches, nostalgic pocket watches, large grandfather clocks, small souvenir clocks, noble mantel and table clocks, modern and entertaining wall clocks…
Right in the middle of the town of Triberg, right down from the world-famous Triberg Waterfalls, you will find our clock store with the animated bear family on the storefront, and perhaps the greatest selection of Black Forest Cuckoo Clocks in the whole area. There are many unusual things to discover in our huge, two-story salesroom. Your visit will become a shopping experience that you will never forget!
Gifts and Souvenirs
You will find something for every taste and occasion in our store in Triberg: handpainted procellan figurines, fluffy stuffed animals, funny gag articles, high-quality music boxes, noble glassware, decorative mobils, multi-function pocket knives …
We have a selection for the large variety of tourists that come to Triberg, and we are sure that all who visit us will find just the right souvenir to take home from their trip to Germany, the Black Forest and Triberg!
Christmas Gifts and Decorations
In our store you will find beautiful Christmas gifts and decorations the whole year round. Our quaint Christmasland on the second floor of our shop is always packed with colorful nutcrackers, wooden Christmas pyramids, lovingly-crafted Christmas tree decorations, cute smokers, and much more!
Explore the House of 1000 Clocks virtually
Here is a short video of our store in Triberg: